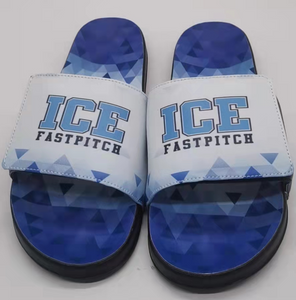 April 21, 2022
NEWSLETTER
It was recently brought to our attention we needed a "newsletter" of some sort to inform the people of new and exciting things happening here at the shop. So I'm going to try and give it a shot. 
Without further ado, we received our first order of custom velcro slides in this week. They were for ICE Fastpitch and look amazing! 
Just look at these! One of my pet peeves is when a company does not accurately depict products in their mock ups. I do realize mock ups are all digital and may not look exactly like the real thing, but these checked all the boxes. We do outsource these (we can't do it ALL) so we take great pride in making sure all products either made by us or someone else like this are the highest quality. 
We currently have two more custom slide designs on order. One for Davison Softball, and one for our new customers Turnin' 2 Softball. This company which makes these slides also provides tons of different shoes, apparel, and collectible items we are looking into offering. If you are reading this and think you may need products along this line, please reach out and let us know how we can help! 
Also, for all of our ICE Fastpitch people who may have missed this we WILL be running this again soon. We will share that here and on social media sites so be on the look out and spread the word. 
If you've stayed with me this long, THANK YOU! This is my first blog post newsletter and I'm not the best writer. I hope you have an amazing day. 
Christene @ K&C's Special T's
---